As a natural part of the aging process, many seniors find themselves isolated from their social connections. Even while in community living environment, social circles get smaller - making solitude gradually more prominent. Solitude rarely happens immediately. It is more often a slow declination that gradually causes social isolation.
But what is the real-life effect of solitude? According to the National Institute on Aging, real health problems are directly related to social isolation and loneliness. Among these health problems, are heart disease, cognitive decline, and depression.
HUBERT® Mobile Convenience Cart
The Convenience Cart from HUBERT® provides the flexibility to support food and drink service options that can be tailored for virtually any special event.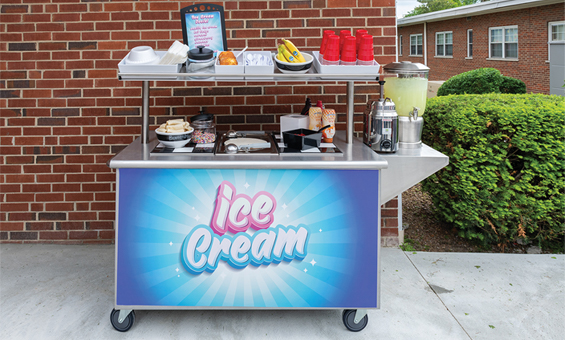 Encourage Social Activity to Counter the Effects of Solitude
Social activity is a driving force for building relationships. This is the key to preventing the feeling of solitude. Unfortunately, social circles can decrease in size over time. Because of this, new members are needed to keep the social dynamic strong.
Fortunately, there are many events that take relatively little effort to coordinate, but result in opportunities that strengthen existing social circles or form new ones. Some of these events may include celebrating resident birthdays, recognizing veterans, organizing holiday parties, host a wine tasting, invite local high school bands, ensembles, or choirs to perform for residents, host a card tournament, or starting a prayer group. The list is endless.
Another great way to engage people is to create an environment that encourages interactions. And getting the ball rolling is easier than you may think. The most basic way to encourage social gatherings is to provide food or drinks. This is the perfect application for the HUBERT® Stainless Steel Mobile Convenience Cart.
This durable, lightweight cart is well suited to support events from ice cream socials, to basic food and drink service. The stainless steel construction is easy to clean, and a large storage area can house a wide variety of inserts, tiles, or supplies.
---
Continue Reading this Series